Water Bottle Buying Guide

When it comes to promoting your business, marketers have endless options in the promotional product world to choose from on how to reach your consumers.
Promotional products are items that consumers can use over and over again, constantly reminding them of a brand. They are a walking billboard. From banners, to pens, to backpacks and t-shirts, there is always a way to connect with your audience.
There is one category, however, that has been proven to show huge results for all businesses and brands...
Reusable Drinkware.
In 2019, nearly 90% of U.S. consumers owned promotional reusable drinkware. To put that into perspective, that is almost equal to the percentage of cell phones in a household.
Now, let's get more specific.
A family of four switching to reusable bottles would save 27 gallons of oil a year. Just one person switching to a reusable water bottle keeps 2,580 balloons of CO2 out of the air per year. Drinking from reusable water bottles can be safer than disposable bottles.
Source : Add-impact.com
For most consumers, drinking water is part of their daily routine. It is an item that they will see day after day, no matter where they are or where they are going, making this highly visible in all personal, social, and business environments.
You're probably aware that there are hundreds of options when it comes to style, type, size, etc, potentially making it a bit confusing or sometimes overwhelming to choose.
We've broken down a few popular and simple styles of custom water bottles for your brand and how they can be of the most value to you.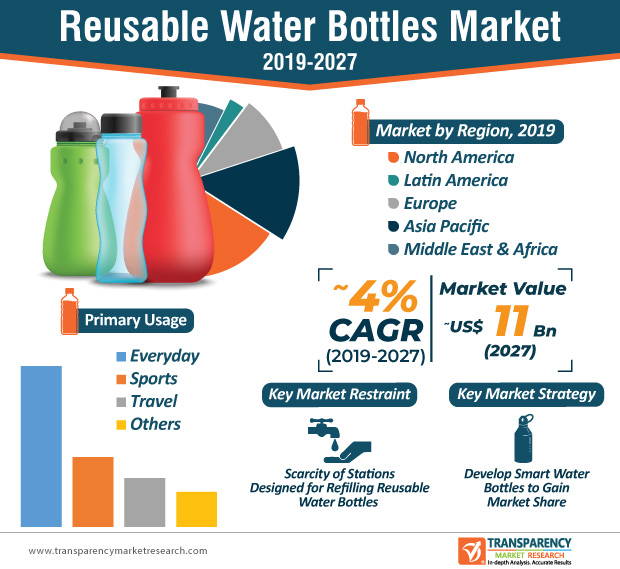 Image Source : Transparency Market Research
Custom Water Bottles to Fit Your Brand

Some of the most popular styles of promotional water bottles you will find are plastic sport bottles. The reason being, they are the most budget-friendly and easily portable.
From running errands to attending a festival or sporting event, sport bottles are a great go-to
Acrylic tumblers are a great choice for those on the go. These tumblers typically offer straws for spill protection, insulation for longer-lasting cold water, and a long lifespan. They may not be AS budget-friendly as the sport bottles, however, these are a good higher-quality option for company gifts, concert merchandise, or giveaways.
From stainless steel, vacuum insulated bottles to more inexpensive aluminum, metal bottles are among the top desired water bottles. Metal water bottles have the potential to last for years, increasing your brand's presence and are among some of the most eco-friendly bottle options.
For stand-out holiday gifts or company events, these are of the highest quality and would make a great investment.
As you can see, there are a variety of ways to promote your brand using something as simple as a custom water bottle. For years to come, these can be seen at offices, sporting events, or on the shelf at home, reminding them of all you were able to do for their business.