Buy Custom Badge Holders for Your Next Event - USImprints
At your next event, know who you're talking to with personalized badge holders from USImprints! Talk to our friendly customer service for more details.
Promotional Badge Holders
3 Products Found
Vylon Badge Holder With Neck Cord ID: 8213953
As low as $1.85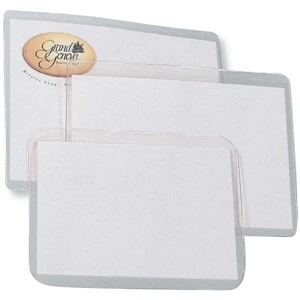 Blank Insert Strips For Badge Holders ID: 8261288
As low as $0.05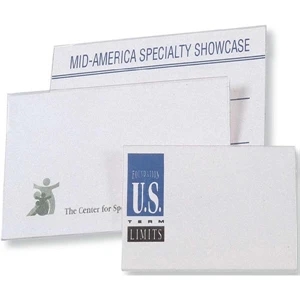 Imprinted Inserts For Badge Holders, 8 1/2" X 11" ID: 8261287
As low as $0.19
Present your authority in the business world with promotional items designed to reflect the establishment of order and consistency. Custom badge holders will properly identify any individuals in positions of authority in all types of settings. Security clearance for business executives, law enforcement agents and special event personnel, just to name a few, need these promotional tradeshow giveaways to keep order in their respective organizations and provide adequate identification for secure environments to be maintained. Your company can distinguish these important people with promotional badge holders showing your dedication to making all places where authority needs to be upheld even more safer, not only for the good of those who command this respect but also for those subjected to it. With your custom logo on these promotional products, you stand for the good of everyone involved. Your marketing campaigns can represent peace and order in the surrounding world with custom badge holders keeping everyone informed as to where the power lies.
There are many of your target audiences who need physical representations of the authority they carry in their professional lives. USimprints has the promotional items to get them what they need in order to be more efficient in carrying out the responsibility of protecting others and holding them accountable for their actions at the same time. Promotional badge holders recognize those in positions of power, who have the interests of others in the same perspective as what is best for themselves. These are the positions where tough decisions are made on a daily basis and with these promotional products, you can equip leaders in various fields with the recognition they need so everyone knows who they can turn to when those decision times come. Custom badge holders are available for many distinct authoritative audiences.
The advantageous qualifications for custom badge holders as promotional items revolves around the different audiences to whom they can be distributed. Most people restrict the use of custom badge holders to law enforcement officials such as police officers and federal agents. While we do have these promotional products available for these judicial officials who uphold the law of the land, custom badge holders can also be attributed to many other people in positions of authority. Top level business executives need badges to open files and gain access to areas in which they are the only ones allowed behind the scenes. For those who work at events where a large number of people are gathered, promotional badge holders help identify them as individuals who are on stand-by for the assistance of anyone who needs it and to acknowledge the fact they are there to maintain the security of all the people in attendance. Even school teachers and administrators use promotional badge holders so the safety of students and faculty will continue to be properly overseen.
It is plainly seen that security and the enforcement of regulations is not confined to only public law enforcement, a big reason why USimprints carries these promotional products for your company to distribute to those who are required to maintain working order and safety among any kind of large audience. Your custom logo will complement the diversity in which these promotional items are held, as you will be able to create your own image and design on any number of custom badge holders from our collection. From traditional police and fire fighter badges to identification slips and pins for promotional badge holders of all sizes, our company guarantees your organization will have the promotional products needed to make it easy to recognize authority and the importance of any officials who possess it.
The dedication it takes to uphold standards and regulations within a given organization is something that cannot be taken lightly. Promotional badge holders give a physical representation of this kind of responsibility as your company can show the maturity, intelligence and humility it takes when others are affected by the decisions authority figures make on a consistent basis. Give the clients and colleagues who are in charge what they need to remind themselves of the responsibilities they have to their constituents with these promotional products providing those constant reminders. As a result, your organization will be seen as an astute leader, not only in the business world but in society as well. Take the step to authority only select organizations get to achieve as you discover another side of corporate responsibility with these promotional items from USimprints.