Promotional Apparel & Accessories
Find a large variety of promotional clothing and apparel. Choose from various styles & colors. Brand your company fashionably. Free proofs on all orders!
Featured Promotional Apparel & Accessories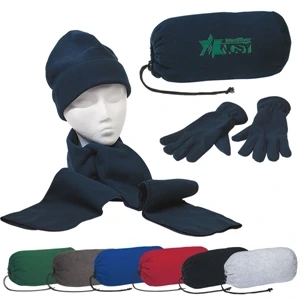 ON SALE!
Keep Warm Buddy - Brushed Polyester Fleece Scarf, Gloves And Cap Set In A Drawstring Bag ID: 10391316
As low as $11.83
All You Need to Know to Shop Promotional Apparel
Clothing is easily one of the most common set of promotional products. It makes sense from a marketing standpoint. If people are willing to wear something with your logo on it, then it says powerful things about your organization.
There is an even more practical element for why custom apparel is such a common giveaway: everyone wears clothes. Promotional t-shirts rank among products with the most broad reach. If you have a wide audience to reach, or can't quite narrow down the demographics of your recipients, it's a safe bet, and clothing stays in circulation for years and years and years (hello, Goodwill!).
With that said, promotional apparel can be a lot more complicated than just ordering some t-shirt with a logo on it. In fact, we'll be the first to straight-up tell you, sometimes handing out t-shirts is a lazy, ineffective idea, especially if the opportunity really calls for something more personal or specific-- or maybe just entirely different.
There are a lot of things to keep in mind with any kind of clothing item, and beyond understanding your audience, a lot of that will just boil down to your own shopping discretion and fashion sense. Though, if you're really having trouble with finding great apparel products, our branding specialists are very familiar with the overwhelming number of options to choose from and can definitely help make a purchase that everyone will be satisfied with -- and more importantly, wear. If this is the case, feel free to chat with us in the box in the bottom right corner or give us a call at 866-604-6774.
Custom Apparel Best Practices - Imprinting
Clothing is essential, and because of that, everyone is familiar with clothes shopping to the point where it is an intuitive process. On the other hand, the imprinting technicalities and nuances are not.
At USImprints, we try to simplify as many of the complexities of custom imprinting as possible, but even so, there are always a lot of one off rules and tips that you'd never know unless you're ordering this stuff on a daily basis. We've asked some of our team for some promotional apparel advice. Here are some great pointers!
"Silk screening does not work on fleece." - Anna
"In order to embroider we have to have vector art for digitizing for a stitch count. Digitizing is a process that can take a few days to get done. - Nicole
"Do not try to embroider

small

text! Taglines and smaller text usually end up looking bad! Also, make sure and get a stitch count on embroidery because if the logo ends up being more stitches than accounted for, then you will pay for it! The more stitches, the higher the price." - Maria
"Printing light colors on dark colored shirts requires a flash ink to make the art POP." - Beth
"ProTip #1 - Promotional printed underwear make a great corporate gift." - Ben, our developer (use his ProTip at your own risk)"
Apparel Screen Printing Do's and Dont's
DO - Have a clear, concise idea of your overall look
DO - Make sure your artwork is print ready - other screen printers will take what you supply with zero clean up, resulting in a bad, distorted and blurred look due to your image being pixelated!
DO - Work with a company that provides a virtual proof prior to printing - without this your logo, text, even phone number could be wrong!
DO - Decide on a budget - apparel printing is typically charged by the number of ink colors, number of print locations and type/color of apparel or hat - The biggest bang for your buck - A colored shirt with white ink!
DON'T - Use thin-lined text - The best marketing is the kind that can be seen - Let your customers be your billboard!
DON'T - Use the "cheapest" printer - ALWAYS use a printer that not only meet your expectations, but exceeds them!
DON'T - Use the "cheapest" apparel - especially if you want staying power! The market is currently flooded with cheap, throwaway, 1x wear clothing - Don't let this happen to you!
Custom Apparel comes in all shapes, sizes and colors!
When trying to decide what type of customized apparel item to use, it can be a bit overwhelming because of the vast array of options. These days, it's more than just your basic t-shirts it's about what type of apparel best suits your event and customer's needs? For example, the hot ticket item right now are the moisture wicking performance t-shirts (also called performance t-shirts/apparel). These shirts have become extremely popular for marathons, gym and fitness centers as well as school athletic departments. They are durable, easy to care for and keep the wearer cool and dry while they participate in various sporting or recreational activities. This would be the prefect choice for your church softball team or community soccer club.
Another popular apparel option are the organic cotton t-shirts. Made with cotton that is grown without harsh chemicals and dyes that are both eco-friendly and safe - many customers are choosing to use these products as both a statement that they are environmentally friendly and that they care about what they are giving to their customers. These shirts come in an array of different colors and are the perfect way to promote your brand or company event all the while taking steps to be kinder to the environment.
If you've done the t-shirt thing before and are looking for another apparel option, why not try custom imprinted caps and headwear? Next to t-shirts, they are one of the most popular giveaway items and something that people will take home with them and use over and over again. Again, the imprint area is typically large and right in front where everyone can see. It's the perfect place to imprint your company or event name and logo for everyone to see. We can customize everything from your basic baseball or trucker cap to visors and knit beanies. Each item having it's own, unique imprint area that can be customized with your specific brand.
When is Custom Apparel Right for You?
Many of our customers organize or sponsor competitive and fun runs. From 5Ks, marathons, or even more adventurous events like a Zombie Run or Warrior Dash, pretty much any apparel item is perfect for these types of events.
It's common for dozens of sponsors imprinted on both the front and the back of shirts and other promotional apparel product. Because each participant is given one at registration, these typically end up being a keepsake. It's more than just a shirt, jacket, or hat; people want to have something to remember their specific accomplishment.
We also see a lot of youth summer camps and youth athletic teams order custom apparel. Soccer, football, baseball and other sports teams all need apparel items with their team names imprint on the front and their sponsors on the back. Whether it's jerseys, moisture wicking apparel, t-shirts, or even caps - any of these options would be the prefect choice for that hometown team that your company is sponsoring.
Whether it's a sporting event, school function, charity run or corporate picnic, apparel is such a widely accepted product that it is a great giveaway for almost any context. We have thousands of different options for you to choose from and we can customize any of them to your exact specifications. Browse through our selection of apparel items and if you don't see something that you like, just ask. We can find just about anything you're looking for!