How To Work From Home Based On Your Enneagram

At this point, we're all pretty aware of what the Enneagram is, right? If not, here's a brief description.
The Enneagram of Personality, or simply the Enneagram, is a model of the human psyche which is principally understood and taught as a typology of nine interconnected personality types. The nine personality types are The Reformer, The Helper, The Achiever, The Individualist, The Investigator, The Loyalist, The Enthusiast, The Challenger, and The Peacemaker.
In addition to correlating your every day life with your Enneagram type, knowing how your type can be the most productive while working from home is a great tool!
The Enneagram of Personality, or simply the Enneagram, is a model of the human psyche which is principally understood and taught as a typology of nine interconnected personality types
Source : Wikipedia
Type 1 : The Reformer
The Reformer is great at figuring out what isn't necessarily working to their benefit and how to fix it. This is a strong quality to have when learning how to work best at home.
They do have a need for control in most situations, which could lead to the challenge of delegating tasks to others. This goes hand in hand with their need for everything to be perfect.
Help your Reformer friends and coworkers to use their talents to show others how to become great at their work, in turn, helping type ones to avoid being overwhelmed.
Type 2 : The Helper
Type 2 is The Helper. These types have a great sense of community. They are very optimistic and energetic. The Helper is definitely a coworker you want to lean on.
As much as they love to help everyone around them, they tend to overwork themselves, thinking they can handle it all. It's important to encourage a Two. They need it, otherwise they will begin to feel like they aren't needed. This sensitivity makes it important to be thoughtful with criticism. They thrive on clarity and need a little extra while working remotely.
Type 3 : The Achiever
The Achiever is focused. They easily disconnect from all feelings when working. Threes have an "I'll deal with it later" mindset. The Achiever, when working from home, needs to take advantage of their breaks, meditate, and open their mind to everything going on around them. They need boundaries set and reminded of them so they can achieve a better work/life balance while working from home.
Type 4 : The Individualist
Type 4 is the Individualist. This type is an idealist. They love creating things together, which may proved to be a little more difficult for a Four.
Being isolated at home shows to be a downer for the Individualist. Be sure to listen to their ideas. Whether their idea is chosen to move forward, they just want to be heard.
Type 5 : The Investigator
The Investigator may show the most push back when working from home. They like to keep their work and personal lives separate. Hard-working, regardless, while working from home, it is best to give a Five plenty of time and a heads up when needing a job done. Needing something from a Five at the last minute will not prove their best work. They are navigating unfamiliar waters, while still trying to be the most effecient.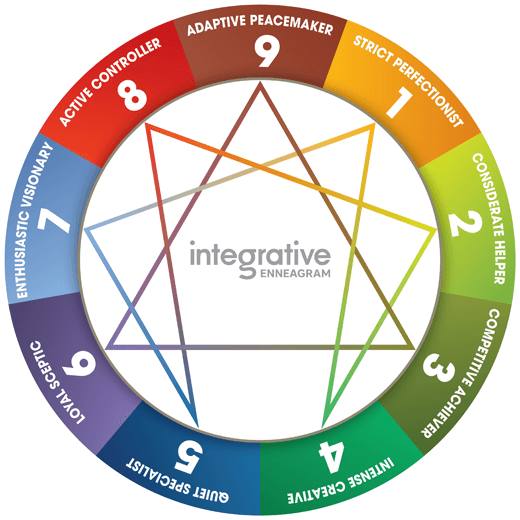 Image Source : Integrative Enneagram
Type 6 : The Loyalist
The Loyalist, you might find, are a little more anxious when working from home. They have a routine at the office. It's comfortable for them. They will likely have lots of questions while being at home. We find that asking a Six follow up questions throughout their week is beneficial for both the Loyalist and the workplace.
Keep in mind, if you see issues arise, a Six is someone who is great at spotting the problem and knowing what to do to fix it. Rely on that. It will go a long way.
Type 7 : The Enthusiast
Type 7 is the Enthusiast. These types work at a very fast pace. They are sure to bring stress levels down for all parties involved. They may even decide to hand out personalized stress balls to encourage those around them. Some may say that Sevens will struggle with working from home, as they love having a change of scenery. You may find that they are bored or have a feeling that they are stuck inside.
While you know they will succeed and surpass the expectations of their work, allow them the freedom to do get things done on their own time.
Type 8 : The Challenger
The Challenger could be a little nervous about working from home. They need all the communication they can get. This is sometimes a bit more difficult when working from home. If the Challenger feels at all like there is no one in charge or aware of what should be done. Be clear with the Challenger of what is expected. They need clear boundaries.
Rest assured that an Eight will get their work done in a timely manner and they will step up to take charge, if needed.
Type 9 : The Peacemaker
Nines are the most team player personalities you will come across. They like to go with the flow and don't take well to great amounts of pressure.
They may not be the most self-starting employee, but they are willing and able to do whatever is asked of them - even if not in their job description.
They do not like conflict, so they do whatever they feel is best for team morale.
The Peacemakers love a routine and need a separate work space to help create an efficient work from home plan.