How Are Custom Drawstring Bags Made?

Drawstring bags have become a popular branded giveaway from the sports field to grade school hallways and to college campuses. They are mostly inexpensive and useful products that can serve a long list of needs. Drawstring backpacks as they are sometimes called, can hold books, sports gear, clothes, uniforms, and plenty of your child's toys.

Bags are a great return on investment as a marketing tool, they generate more impressions than any other promotional giveaway according to research from the Advertising Specialty Institute. They are popular for the younger demographic, especially among women under 24 years old.
At USimprints, we produce thousands of custom drawstring bags each month and the common question our team is asked is how are they made, and what style should I choose?
The two most popular options are nylon and non-woven polypropylene. We will unpack the differences in both, and how they are made.
Nylon is a silky textured, thermoplastic, synthetic fiber created in the first half of the twentieth century by the Dupont company. It is a product derived from petroleum. It was a material used in the manufacturing of World War II supplies from parachutes to ropes to tents. It has become a popular material used in hundreds of thousands of products and apparel beyond wartime gear.
Nylon is a strong but lightweight material, even stronger than polyester. It also dries quickly and is commonly used in outdoor related products.
Many of our drawstring bags are manufactured with nylon for the bag, lining, attached rope and handles. The nylon option is a more weather friendly, durable option especially if consumers will use the bags to put heavier items like books in them.
In regards to environmental impact, nylon is non-biodegradable because it does originate from petroleum (a non-renewable resource). It can be recycled but uses considerable energy to do so.
Nylon bags are typically more expensive than non-woven options and have a longer lifespan because of the greater durability of the material. Overall if your budget can afford it, we recommend choosing a nylon drawstring bag.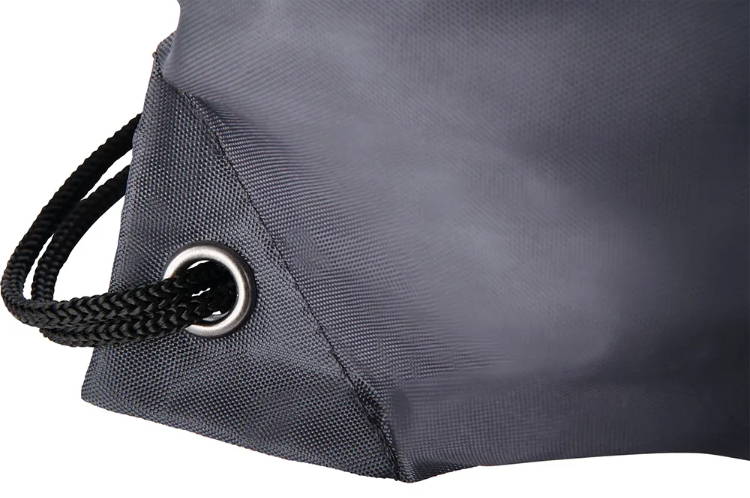 50% of US consumers own a promotional bag.
Source : Advertising Specialty Institute
Non-Woven Drawstring Bags
Non-woven drawstring bags are made out a plastic material called polypropylene, a thermoplastic resin produced by the polymerization of propylene. The manufacturing process of the bags start with small plastic pellets melted under pressure to create a continuous, flat piece of material. Non-woven products like drawstring bags are not made by knitting or weaving by using yarn from the polypropylene.
The woven look on the bags are created when a pattern is pressed down on the plastic material towards the end of the manufacturing process.

These bags are a sustainable option, most of the materials used to manufacture them can be recycled to produce more bags or even other products.

Non-woven style bags are less durable and are more prone to get wet than the nylon option. It is a less expensive choice for a budget conscious giveaway.